Strengthen. Lengthen. Tone.
Here at Reform it is our mission to provide clients with a dynamic exercise programme that delivers results fast in a safe environment, providing a euphoric and body enhancing experience.
Learn more about our Reformer Pilates, Cardiolates, HIIT and Personal Training sessions and book a class at your nearest studio.​
We offer REPs recognised CPD Courses to Pilates instructors (current and new), Physiotherapists, Fitness, Exercise and Rehabilitation Professionals.
A Reform Dynamic Reformer Pilates Qualification is a powerful addition to the repertoire of treatment and teaching tools for all Rehabilitation, Fitness & Exercise Professionals who understand the importance of the quality of movement.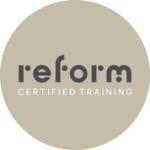 Gain an introduction to the Pilates Reformer Machine and learn how to use it. This 30-hour course will give you access to Reform's in-depth training manual and the necessary tools and knowledge to become an instructor.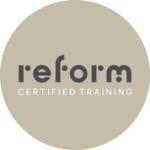 A continuation of our Module One training, Module Two is designed for the experienced Pilates practitioner wanting to broaden their exercise repertoire for advanced dynamic exercise on the Reformer.